Image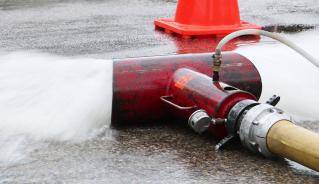 The Thames Centre Water Department will be conducting the Fall Flushing Program from Monday, October 17th to Friday, October 21st. The flushing will take place between the hours of 8:30 a.m. and 4:00 p.m.

Fire hydrant flushing is done to remove any sediment or inactive water from the distribution system and to test fire hydrant operation. These steps are being taken to improve the overall water quality within the distribution system and to ensure the delivery of the highest quality water possible.

As in the past, we suggest that residents switch water softeners to "bi-pass" and avoid doing laundry during the flushing times. Discoloured water may be observed and has the potential to stain clothing. If laundry has been stained during this period, the Water Department has a wash additive available to remove the stains.

Once the flushing program has been completed, we ask that a cold water tap be turned on and let run for approximately 2 (two) to 3 (three) minutes to flush out any discoloured water that may have accumulated in your water connection. If clean water is not experienced after this time, shut off the tap and repeat after 1 (one) hour.

If you have any questions or problems, please contact the Environmental Services Department.