Image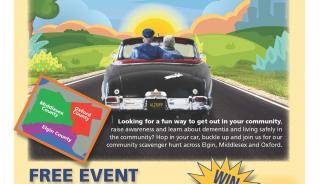 Looking for a fun way to get out in your community, raise awareness and learn about dementia and living safely in the community?
Hop in your car, buckle up and join us for our community scavenger hunt across Elgin, Middlesex and Oxford counties. You can focus your hunt on one part of the region or expand your search area to increase your chances of winning some great prizes – including a $200 gas card!
By participating in this fun road trip scavenger hunt you'll not only learn more about dementia and how to live safely in the community, but you'll also get to know some great businesses and organizations across our area!
FREE EVENT - Great prized to be won!
Thames Centre Residents - Dorchester Community Park is included in the Scavenger Hunt
For more information and to register, please visit https://alzswp.ca/finding-your-way-scavenger-hunt/
Address
435 Windemere Road
London ON N5X2T1
Canada