Image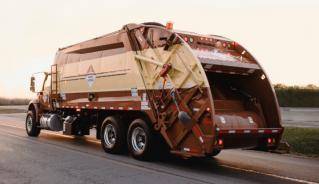 Garbage + Recycling collection is provided by Miller Waste Systems Inc.
2021 - 2022 Waste Reduction Calendar 
FALL YARD WASTE CURBSIDE COLLECTIOn
November 7-11, 2022
GARBAGE
---
Garbage is collected weekly from April to October and bi-weekly from November to March.
Garbage Bag Tags

Garbage bag tags are required in the Municipality of Thames Centre.

Learn more about Garbage Bag Tags
How to Place Your Garbage
Waste Diversion
Missed Garbage Collection

Garbage is to be placed at the curbside by 7:00 a.m. on your regular collection day.

Learn more about Missed Collection
Household Hazardous Waste Drop-Off
Oversized Waste Pickup
Recycling
---
Recycling is collected on a weekly basis all year round.
Missed Recycling Collection
How Recycling Works
Missing or Damaged Blue Box
How to Sort Your Blue Box

The Municipality provides Blue Box recycling to single family residential homes.

Blue boxes are collected weekly throughout the year on your regular collection day.

Learn more about Blue Box Recycling
Charity Depots
For Questions Contact:
Job Title
Environmental Services Superintendent