Image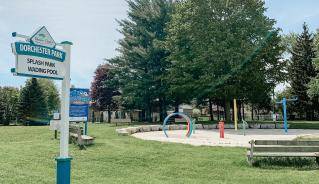 SHOULD YOU REQUIRE ASSISTANCE OUTSIDE OF REGULAR OFFICE HOURS
(EVENINGS, WEEKENDS AND HOLIDAYS)
YOU MAY CONTACT THE FACILITY OPERATORS at 226-376-3931 or 519-494-6857
---
Swimming Lessons 

Online swimming lesson registration for summer 2023 sessions will begin on Tuesday, April 18, 2023 at 10:00 a.m.
All swimming lessons are based on Lifesaving Society standards.
Registration CLOSES the Friday prior to each session beginning. For example, Session: 1 will close Friday, June 30, 2023 at 11:59pm, and so on. 
Each session runs for 2 weeks, Monday to Friday (including statutory holidays), as follows:

July 3-14, 2023

July 17-28, 2023

July 31-August 11, 2023

August 14-25, 2023

 

Bronze Star, Bronze Medallion and Bronze Cross:

These classes are only offered in the first week of sessions 1 & 3. There is a minimum requirement of at least 4 registered swimmers for each of these programs to run. Visit our website for full details, including pricing and required qualifications.

Private Lessons:

There is no online registration for private lessons. Times can be arranged with staff if you are interested in one-on-one private or semi-private ½ hour lessons to suit your child's specific needs.

 

Not sure which class to register your child for? View the guideline below.
Swim for Life Aquatic Registration
Swim Team 

Swim Team registration is open on Tuesday, April 18, 2023 at 10:00 a.m.

Swim Team members must be at least 5 years old and able to comfortably swim two lengths of the pool (50m). All members compete in swim meets against other area swim teams.
Time trials will run every other week, starting Tuesday, July 11, 2023.
Practice times, and swim meet dates will be determined closer to the start of the season and updates will be posted on the Facebook page.
Practices are 45 minutes in duration between 4:30 – 7:00 p.m. 
All swimmers compete in swim meets against local swim teams on Wednesday evenings. 
The last day to register for Dorchester Dolphins Swim Team is Friday, July 14, 2023 and only 60 spots are available. 
Pool Passes 

Pool Hours:

June 30-August 31, 2023 Open Swim Hours:
Monday-Sunday - 1:00-7:00pm
 

June 30-August 31, 2023 Lane Swim Hours:
Wednesday & Friday - 6:00-7:00 p.m.
Public Pool


June 30-September 3, 2023 Open Swim Hours:
Monday-Sunday - 1:00-7:00pm
 

June 30-September 3, 2023 Lane Swim Hours:
Wednesday & Friday - 6:00-7:00 p.m.

The Pool will be CLOSED on July 12 and August 16, 2023 at 4:00pm for a Swim Meet!

 

Located at 4275 Hamilton Road, Dorchester
Wading Pool 

June 12-29, 2023 Hours:
Saturday & Sunday - 1:00-7:00 p.m.
Monday-Friday - 4:00-7:00 p.m.

The Wading Pool is open daily, Monday-Friday from 10:00am - 7:00pm and Saturday & Sunday from 1:00 - 8:00pm
There is no fee to use the Wading Pool
Open to children 8 and under. Parents & Guardians must accompany their children.

Located at 4275 Hamilton Road, Dorchester
Splash Pads 

Splash Pad Closures for the 2023 Season:

Thorndale Splash Pad: Last day is Thursday, September 21
Dorchester Splash Pad: Last day is Sunday, September 24

The Splash Pads are open daily from 9:00 am - 8:00 pm
The Splash Pads are not supervised. Parents & Guardians are responsible for the supervision of children in their care.

Located at 4275 Hamilton Road, Dorchester and 265 Upper Queen Street, Thorndale
Aqua Fit 

Please note that registration for Aqua Fit is only accepted online!

Located at 4275 Hamilton Road, Dorchester
​​​​
For Questions Contact:
Department
Community Services & Facilities
Job Title
Administrative Assistants
Department
Community Services & Facilities