Image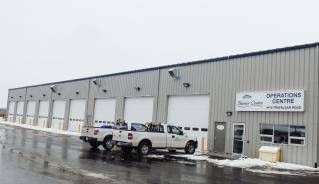 Reduced Load Limits in Effect: February 15 - May 31, 2023

To keep our municipal roads in tip-top shape, Thames Centre has reduced load limits in place for February 15 - May 31, 2023. Watch for signs on local roads, and see the map for a list of roads with load restrictions in place.
Roads Division

The Roads Division is one of the primary operating arms of the municipality

The municipality maintains approximately 180 km of gravel roadways and 180 km of hard surface roadways

Duties include: patching and filling holes, cutting grass along roadside ditches, performing road side tree maintenance, rebuilding roadways and winter maintenance.
Fleet Services

The fleet service is responsible for maintaining and replacing municipally owned vehicles and equipment under the municipal replacement strategy
Our purchasing practices ensure that the best and most appropriate equipment is available for each Department's needs
We do not keep equipment that is costly to maintain. 
Streetlights

Report a streetlight repair or outage to our Transportation Superintendent, Jake McKillop.
Winter Road Maintenance
---
Please view our Winter Road Maintenance - Frequently Asked Questions
Ontario Good Roads Association (OGRA) - Safe Driving in Winter Conditions
Road Closures
---
Planned road closures will be outlined in our Alerts service.
View the Middlesex County Road Closures Map 
MUNICIPAL SURPLUS EQUIPMENT/VEHICLES
---
Thames Centre's surplus equipment/vehicles are advertised on the GovDeals website.
For Questions Contact:
Job Title
Transportation Superintendent