Image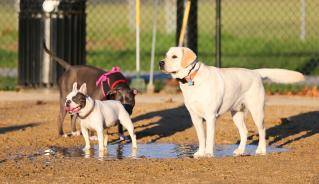 The Dorchester Dog Day Park is located at the Outdoor Recreation Complex.
 
Dorchester Dog Day Park Sponsorship Package

$10,000.00 - Dog Park Sponsorship with Personalized Business Sign

$2,000.00 - Dog Park Bench with Personalized Plaque

$750.00 - "Leader of the Pack" - Name featured on Dog Park Sponsorship Sign

$500.00 - "Dog's Best Friend" - Name featured on Dog Park Sponsorship Sign

$100.00 - "Paw's Pals" - Name featured on Dog Park Sponsorship Sign
What is the dog day park?
Dogs are not allowed to run-at-large anywhere in Thames Centre. This means they must be on a leash when you are out for a walk or visiting a park.
"Dog Day Park" is designed to provide off-leash access within a specific municipal park to accommodate the needs of dog owners to exercise their pets when they wont be subject to the municipal animal control by-law.
Dogs can legally run off-leash only in the Dog Day Park.
 
Dog DAY Park Rules
---
Up to date vaccinations and license tags must be on the dogs collar at all times (Bordetella/Kennel Cough Vaccinations highly recommended)
Use the dog park at your own risk
Leash your dog while entering and exiting the park
Keep your dog within sight and under verbal control
Do not allow your dog to chase wildlife
No puppies under 4 months of age, female dogs in heat, sick, aggressive or out of control dogs allowed
No play toys, balls, dog treats or human food allowed at this park (any of the above could cause aggressive behaviour to occur)
Children must be supervised by an adult at all times
Unsupervised children under 14 years are not permitted at the park
Off-leash area users are subject to the dog owners' liability act
Fill holes if your dog digs
Pitbulls, are defined under the Ontario Law, must be muzzled and leashed at all times whether they are in an off leash park or not
Help keep the park clean and work as a group
You are responsible for your own children and their behaviour
Pick up after your dog
No glass containers allowed at the park. 
For Questions Contact:
Job Title
Parks & Facilities Supervisor
Department
Community Services & Facilities